Regions by Geography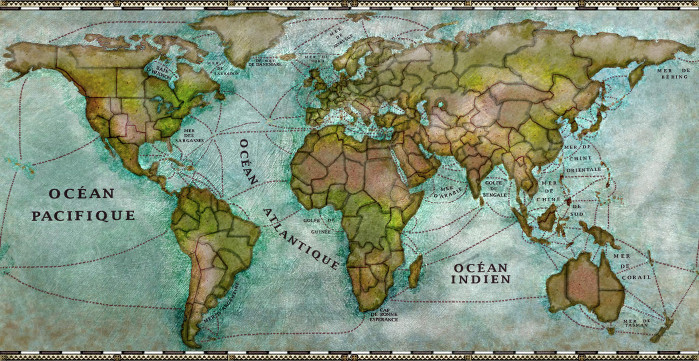 Hint: Mouse over the map to access the atlas entry for each relevant region.
For Age of Darkness, please go here instead.
The world is divided into 15 regions, being:
How are tribute bonuses calculated?
They are calculated based on three things: supply centres, total tribute, and territorial size.
Territorial size varies and is more of convenience than reality
Supply centres vary and are based on the number of ports and manpower factors available
Tribute is assigned to reflect geopolitcal dynamics so although China is territorially smaller than Europe it has a high tribute score attached to it.
The unification bonuses are then assigned based on the size of a continent's geopolitical factor, which is supply times times territory size. Unlike Rise of Kings, rare resources are more important and are treated as being worth 100 tribute each. as such:
Strategic resources (and where to find them)
Strategic
resource
Value
Locations
Strategic
resource
Value
Locations
33
Alps; Suquía; Texas
8
Bizkaia; Crimea; Ecuador; Hainan; Karelia; Karnattaka; Newfoundland; Merina; Te Ika-a-Māui; West Irian; Yellow Sea Coast
50
Guatemala; Myanmar; Paraná
14
Azores; Dvina Lowlands; Greenland; Malvinas

;

North Sakhalin; Marianas; New Hebrides; Svalbard; Wales
25
Central England; Manchuria; New England; Poland; South Sakhalin
100
California; Cape Province; Siberia; Victoria; Yakutia
100
Pacific Northwest
100
Great Plains
33
33
Great Lakes; Kamchatka; Norway
33
Maharashtra; Mississipi; Sudan; Tahiti
100
Alaska
50
Belize; Thars;
25
Bavaria; Carmania; Extremadura; Sindh; Urals
100
Ceylon; Myanmar
33
Cambodia; Crete; Patagonia; Kansu; Upper Egypt
100
Benin and Dahomey; Congo; Kedah; Upper Amazon
33
El Djouf; Punjab; Tibet
16
Brunei; Konkan; Johor; Sulawesi; Sumatra; Suriname; West Guinea
50
Afghanistan; Epirus; Ladakh; Van Basin
33
Hispaniola; Ivory Coast; Kwangtung
33
Kiangsu; Lombardy; Szechwan
33
Mozambique; Panama; Taiwan;
100
Central Italy;
25
Marmara Coast; Morea; Portugal
25
Hokkaido; Iceland; Kurils; Naples and Sicily
33
20
Rio Grande; Shikoku; Venezuela; Yukon; Yunnan; Zambia
33
Bermuda; Jamaica
33
Bulgaristan; Cuba; Mindanao
20
Alsace-Lorraine; Angola; Nordland; Western Australia
25
Central China; Don Basin; Paris-sur-Seine; Rhodesia
50
Horn of Africa;
50
Languedoc; Persia; Piemont
33
Bashkiria; Krasnoyarsk; Nunavut
50
Mongolia; Ukraine
100
Pomerania
100
Bechuanaland
50
Saxony
100
Shatt el Arab
50
Mexico; Southern Andes
33
Delhi; Guyana; Kalimantan
100
Bothnia
100
Bohemia
Notes:
Lead assumes the bonuses of Obsidian .