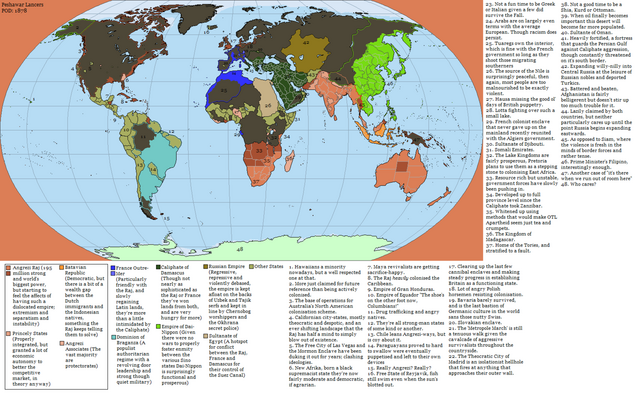 Description
Edit
Seems to be that the following nations are extant:
India (or rather, Anglo-Indian kingdom)
France (outre-Mer)
Japan
California (USA, albeit a theocratic bunch of cities resembling the bible Belt)
Egypt ????
Spain (now a small city-state)
Dominion of Braganza (Portugal???)
Bavaria (Germany???)
Russia
Batavian Republic (Dutch)
Siam
AND THEN.....
Australia
South Africa
Poland
Afghanistan
Syrian Empire
Tibet
New Afrika
Paraguay
Gran Colombia
Chile
Slovakia
Somalia
bUganda
What's the premise?
It's 100 years since the events of The Peshawar Lancers. The world has recovered, and things are reaching pre-Fall levels. Steamships and airships are still all the range.
File history
Click on a date/time to view the file as it appeared at that time.
Metadata
Ad blocker interference detected!
Wikia is a free-to-use site that makes money from advertising. We have a modified experience for viewers using ad blockers

Wikia is not accessible if you've made further modifications. Remove the custom ad blocker rule(s) and the page will load as expected.