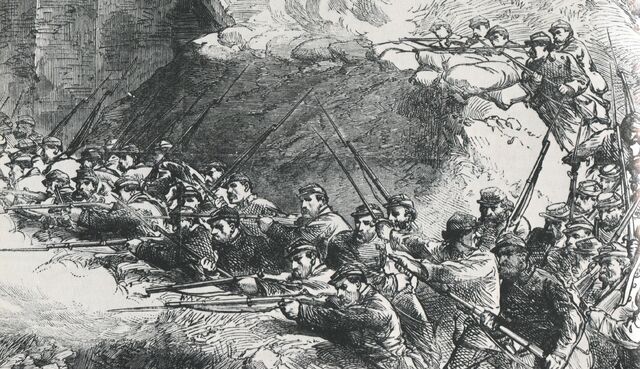 Texas Revolution!
Edit
"Incensed by the Mexican government's ban on slavery and attempts to control agricultural production in Texas, Anglo-Saxon settlers of Texas have revolted against the Mexican government, and have begun a an insurrection against Mexico! one question remains however: given the provenance of these settlers, will the United States attempt to fight for the Texans, or desert them to their fate?"
Civil War in America!
Edit
"Suspicions between the northern and southern states of the United States over the issue of slavery have erupted into calls for secession in the south. There can now only be one outcome: a brutal and thankless civil war that may ultimately change the world forever."
Confederate states join League of Nations
League of Nations declares war on USA
Boshin War!
Edit
"Modernisation has backfired, and has resulted in the crippling of Japan's economy! hatred of foreigners and mass deprivation have forced the people of Japan to revolt, and a civil war is inevitable!"
Trigger: Japan renounced Sakoku.
Effects: Either British (Emperor) seizes control of Kyushu (with Saigo Takamori as leader), or France seizes control of Hokkaido (Enomoto Takeaki).
Historically, what happens is that France seizes control of Kyushu.
German empire forms!
Edit
"For the first time in almost a thousand years, the German peoples are finally united as one under hegemony of Prussia! while it is a time of celebration for Germanophiles worldwide, the ramifications of this sudden event has the diplomats and kings of Europe on edge."
File history
Click on a date/time to view the file as it appeared at that time.
Ad blocker interference detected!
Wikia is a free-to-use site that makes money from advertising. We have a modified experience for viewers using ad blockers

Wikia is not accessible if you've made further modifications. Remove the custom ad blocker rule(s) and the page will load as expected.