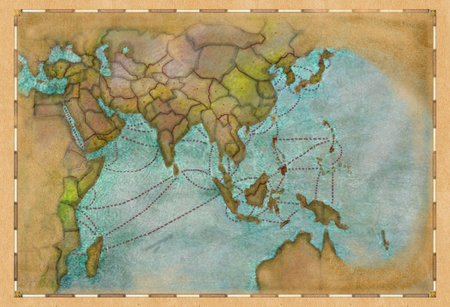 Victory conditions
Edit
Westerners: control 50% of the map, be the first to earn 1,000 tribute.
Asians: Assume control of 2 region, have a total territorial strength level higher than any Asian nation.
Starting eras
Edit
Colonial, Mercantile, Imperial
Note: Westerners' pop caps are limited per era - 33% for the Colonial Era, 66% for the Mercantile Era and 100% full pop cap by the Imperial Era.
Start era: c 1590
AI-controlled
Edit
Different factions obtain tribute in different ways.
For Western nations,, tribute comes from the control of rare resources.
For the Asian factions, tribute comes in the number of territories you control, with a certain multiplier:

Malaya, Myanmar, Korea, Vietnam: 2
Japan, Siam, Iran: 3
Manchu, Mughal: 5
Ottoman Turks: 10
Example: For instance, playing as Siam, controlling 7 territories, the amount of tribute you obtain per turn is 21 as long as you control 7 territories.
Middle East
Edit
Africa (parts only)
Edit
Southern Asia
Edit
Pacific (parts only)
Edit
Auxiliaries
Edit
Auxiliaries are normally available to all factions, except the French, English and Dutch. For these, they must do several sub-quests in order to obtain them:
Foot mercenaries may be obtained only with the capture of temples; for this reason temples are not accessible by these factions at the start.
Once you have established an effective foothold (by say, driving out another European power) you are then asked if you would like to start a missionary protocol to convert the locals. This has three choices, spend no tribute, spend 50 tribute to sponsor missionaries (unlocks temples), or spend 100 tribute for 3 mercenary cards. The 50 tribute option allows access to temples, but damages relations between you and other factions not allied with you - they may refuse to ally with you, and will not trade territory away except for a high price, and will also cause them to fight you if you have low territorial strength and high amounts of tribute.
Ottomans: Marmara Coast

Arabs: Muscat
Koreans: Kwanso
China: Peking
Japan: Edo
Malays: Sumatra and Kedah
Bamar, Siamese, Vietnamese (as usual)
Dutch: Jawa and Johor (Johor sultan is considered friendly to Dutch)
British: Main base is at Bengal
Spain: Based in Luzon
Portugal: Mozambique and Goa and Timor (Goa is the capital)
French: (not present but frequently appearing in India)
Indians: They have a capital in Delhi but switch over to the Marathi after a while.